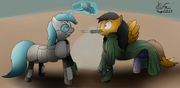 Occupational Hazards is a side-story co-written by the-furry-railfan and MintyCandy. It follows the tales of a pair of former Stable residents in the far frozen northern latitudes of postwar Equestria, Twintails and Minty Candy, and their discoveries in this wide, brave new world. However, not everything is ever what it appears to be upon the surface...
The story is written in single-page installments, accompanied by a related picture depicting a scene from the various relatively short chapters.
Setting
Occupational Hazards is placed in a timeframe approximately one decade before the events of Fallout: Equestria, in the far desolate north of the Equestrian continent. The region suffers from noticeably higher background radiation levels than the rest of Equestria due to northernly winds carrying significant amounts of fallout, as well as permanent winterlike-contitions and rolling massive blizzards, which causes permanent settlements to be sparse and far between.
Characters
Locations
The North Equestrian wasteland is a vastly different place than the rest of Equestria, with any pockets of civilization surviving in the cold wastes being sparsely placed and separated from each other.
Behind the Scenes
External Links
Community content is available under
CC-BY-SA
unless otherwise noted.