Applejack's Rangers are a faction in Fallout: Equestria.
Background
Applejack's Rangers are Steel Rangers that have defected and joined Steelhooves following the Ranger's attack on Stable 2. Named for their leader's former lover's ideals, Applejack's Rangers believe that they should stay true to their original purpose, protecting Equestria and its inhabitants rather than hoarding pre-war tech and hiding away underground.
Since their inception, Applejack's Rangers have expanded fairly rapidly, taking over Stable 29 as their headquarters and moving to recruit more of the Steel Rangers to their cause. Applejack's Rangers show their separation from the Steel Rangers by trimming their armor with apple-red paint.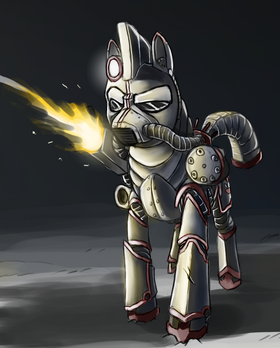 Contingents
The divide in the Steel Rangers has resulted in the creation of Applejack Ranger contingents across the Wasteland. These other Applejack's Rangers were reportedly fighting their Steel Ranger counterparts, until the Enclave began Operation Cauterize, encouraging the two factions to work together to survive.
Manehatten Contingent
This contingent is made up of Steel Rangers who defected from the Fillydelphia Contingent and Elder Cottage Cheese's own contingent in Manehattan. The operate out of Stable 29 and serve as the central leadership for the other contingents as they fight to rebel against the more traditional Steel Rangers. A group of them assisted in defending Spike's cave when Littlepip set off on her assault of the S.P.P. at Neighvarro.
In Side Stories
Applejack's Rangers in Fallout: Equestria - Project Horizons
It is revealed that the Hoofington contingent's Rangers, those who weren't traditionalists or renegades have defected and become Applejack Rangers. Blackjack met them at the Fluttershy Medical Centre, where they have set up a temporary base of operations, under the leadership of Star Paladin Stronghoof .
Applejack's Rangers in Fallout: Equestria - Pink Eyes
A group of Applejack's Rangers were engaged in open conflict with the Steel Rangers on Route 52. They offered some assistance to Puppysmiles and hired Henrietta Firebright to do some work for them. The Applejack's Rangers grouped together with other ponies Puppysmiles met on her journey along Route 52 to attack a hostile group of raiders called The Herd & save the town of Ironworks. They then followed Puppy to Emerald Shores and did their best to hold back Creepy Voice. Several Rangers were killed, but their efforts kept the monster at bay, long enough for Henrietta to convince Puppysmiles to move on.

The surviving Rangers would take over Ironworks and the stable there and use it as a base of operations.
Applejack's Rangers in Fallout: Equestria - Outlaw
After the destruction of War Machine's base of operations, Clam Chowder and his faction of Steel Rangers, joined the Applejack's Rangers. They plan to leave Buckston, once they have assisted Mach in killing Ardent Vortex - specifically, in hopes to leave and help other groups of Applejack's Rangers.
Applejack's Rangers in Fallout: Equestria - New Beginnings
A group of Applejack's Rangers exist in the side story New Beginnings. This group of Rangers worked and operated out of an old Fluttershy Hospital that had functioning medical equipment like highly delicate Auto-docs. They were led by an Elder Muffins who perished during an attack by some Enclave pegasi. They have since relocated and set up a Barracks in The Junkyard, an old junkyard/scrapyard owned by a pony mechanic named Scraps. And are now led by Star Paladin Lilac.
Applejack's Rangers in Fallout Equestria: Wasteland Jewel
Applejack's Rangers appears in Stable 20 outside of the city of Neigh Orleans, they sent a contingent lead by Knight Cinnamon Apple in order to help fight the Crimson Empire during the Battle of the Northern Fields. They later appeared searching for the downed Enclave warship Typhon under the command of Paladin Nova and helped fight in the Battle of Ground Zero.
Applejack's Rangers in Fallout Equestria: Renegades
They are fighting a prolonged conflict against the Steel Rangers under Elder Mandrake in Seaddle during this fanfic. They haven't appeared yet but the Steel Rangers have claimed that they have attacked them on numerous occasions and that they where behind an assassination attempt on the Elder. What little is known about them is that they're based out of an area called the Pier.
Applejack's Rangers in The Storyteller – A Fallout: Equestria Lore Series
The main character Whiskey Pickles, aka The Storyteller, is a Paladin of the Manehatten Applejack's Rangers. Though uncharacteristically he is out on his own collecting bits of lore and telling it to ponies he comes across.

The main character Scribble Jot is a unicorn scribe for the Manehatten Applejack's Rangers. She modded a sprite-bot to store data and protect AJ's Rangers. She gave it the designation WN-DA, affectionately called Wanda.
Behind the Scenes
The Applejack's Rangers paint job and defection from their parent organization are a reference to the Brotherhood Outcasts in Fallout 3 who, ironically, left to hoard technology rather than aid the East Coast Brotherhood of Steel in protecting the wasteland. However, the East Coast Brotherhood of Fallout 3 is seen as traitors by the original technology-hoarding Brotherhood chapters farther west.