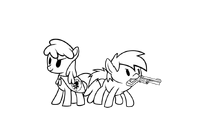 This article is a stub.
You can help Fallout: Equestria Wiki by expanding it.
Cancer
Profile
Race
Robot
Faction/Role
Zodiac Clan
Status
Fully Operational
Appearance
Coat
Grey with a red crab painted on.
Cancer was a heavy duty wartime Sentry Bot from Fallout: Equestria - Project Horizons. It was encountered within Dr. Zodiac's sanctum inside the Collegiate's observatory. Cancer is controlled by Dr. Zodiac remotely, like the rest of the robots found within her sanctum.