This article is for the side story written by FelixVeeVee. For the titular character, see Murky Number Seven (Murky Number Seven).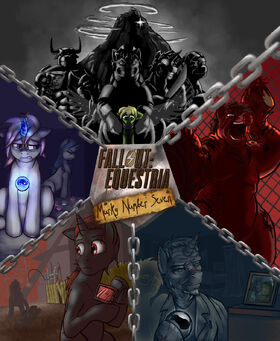 Murky Number Seven, written by FuzzyVeeVee is the story of a young buck named Murky Number Seven. Murky was born into a life of slavery and has known nothing but the life of a slave his whole life. Murky has unfortunately ended up in Fillydelphia, working under terrible conditions and cruel masters.
Murky witnesses Littlepip's daring escape and begins a slow change within himself, a desire to be free and live has given young Murky a purpose in life and he aims to achieve it by escaping Fillydelphia.
Setting
The story is set in Fillydelphia focusing on various factories, facilities, locations within the growing empire of Red Eye. The story also revisits some of the more famous scenes and locations from Littlepip's brief stay in Fillydelphia, such as Littlepip's escape and the Ministry of Image facility that Littlepip cleared of Bloatsprites.
Read:
The Story can be read here on Google Docs and here on Fimfiction
Listen:
A WIP audiobook by DabblerBrony can be found here:
A second WIP audiobook by BeSharp can be found here: