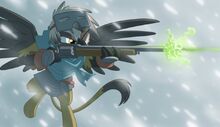 Fallout: Equestria - The Gates to Hell is a cancelled Fallout: Equestria side fic written by Quantum Mechanic. So far it has 9 chapters (including a Preface and Prologue) and has 59,687 words as of January 6th, 2017. It starts out as the typical "pony from a stable" story line, but the main character Quantum is a pegasus that comes from a long line of pegasi that did not escape to the clouds after the use of the Balefire Bomb that destroyed Equestria.
It is available on Fimfiction.
Synopsis
Once upon a time, in the magical land of Equestria...
The skies rained green balefire and the lands that were struck were obliterated and a new era began instantly. The era of the Wastelands. Though most of the members of the dominant species were turned to ash when the bombs fell, thousands were saved by the use of Stables hidden all over the once beautiful landscape. There were 101 stables each with their own traits that made them different. Stable 37, a massive stable located in the ravaged outskirts of Detrot Michigan, was one such example. A pegasus stallion named Quantum did not know nor did not need to know about the horrors of the Wasteland outside. He never imagined that he needed to... All bets are off in Detrot.
Setting
As of now, most of the story has taken place around the city of Detrot, Michigan and in a theater located near the main lake of the city named "Foxes Theatre". Detrot is described in The Wasteland Survival Guide: Detrot Edition written by Ditzy Doo as "one of the coldest places in Equestria". After the Balefire Bomb struck the city of Manehattan, Detrot's weather systems were abandoned by pegasi forces that were situated themselves above the city due to atmospheric Balefire radiation and haven't returned even after the radiation became inert. Therefore Detrot is under constant battering from snow and ice weather it was winter at that time or not.
Community content is available under
CC-BY-SA
unless otherwise noted.