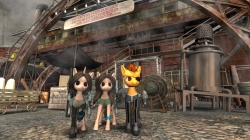 We're no Heroes, written by Otherunicorn is the story of two unicorn cyborgs originally from a Ministry of Awesome secret stable, Stable Lab 04.
Synopsis
Not everypony who crawls out of a stable can be a Littlepip or a Blackjack. Some try and fail. Some just give up after a while. Some are still alive fifteen years after they emerged, admittedly, crippled or insane, but hey, this is the wasteland. Cyborgs Anne and her brain damaged mother Lee are forced to return to the hell hole that created them in order to find out what was done to them almost two decades ago, and that means putting down their tools and picking up their guns again.
Characters
Lee
Demi
Saffron Fields
Read
Community content is available under
CC-BY-SA
unless otherwise noted.