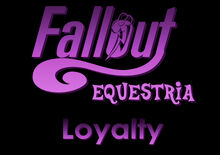 by Krellak (http://krellak.deviantart.com/) Ongoing story
Story
Set in an alternate Universe, Loyalty follows the adventures of Quickcase, an Enclave Pegasus who becomes stranded in the wasteland after being betrayed by a high ranking official.
Settings
Loyalty takes place in the western region of Andalusa. Most ponies call it 'The West'
Characters
Main list: List of Characters in Fallout Equestria Loyalty
Read Link
Other Links
Community content is available under
CC-BY-SA
unless otherwise noted.