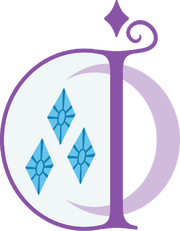 The Ministry of Image is a pre-war ministry that was headed by Rarity. Its purpose was to provide propaganda to the rest of the ministries and Equestria in general, and to censor illicit information.
Background
Known to have had a Hub in Fillydelphia. Unlike other Ministries, the Fillydelphia Hub was a small two story building that maintained printing presses to manufacture propaganda materials.
After the War
The propaganda material of the Ministry of Image was noted as the first contact that Littlepip had with any of the ministries. When Littlepip infiltrated Fillydelphia as a slave, she cleared out the Fillydelphia Hub of irradiated Parasprites that had infested the building. Despite that using fire was the best way to deal with Parasprites, Littlepip was only given a magical energy gun. Red Eye desired the Hub's printing presses to be taken intact and so forbid the use of a flamethrower. Red is presumed to have desired the printing presses to produce his own propaganda and school materials.
Known Projects
Airborne Power Armor
Throughout Equestria's war against the Zebra, the Ministry of Awesome delved deeply into the fields of bleeding-edge technology. The forefront of said technology, or at least the forefront of that shared in the story, has to be the creation of Pegasus-adapted power armor. This power armor-while nearly as strong as that worn by steel rangers-was capable of providing the flexibility and aerodynamics needed for an air-bound Pegasus. It also boasted built-in weapons, life support and an updated CPU that enabled trigger-less shooting among other benefits. The armor originated in a collaboration between the Ministry of Awesome, and Rarity of the Ministry of Image, perhaps in homage to the dressmaking the mare took to as a hobby in the past. Rainbow Dash tested the armor herself, showing it off to the rest of the ministry mares and eventually the Equestrian air force.
After the Apocalypse, the Grand Pegasus Enclave adopted this power armor as their signature military garb. Since then, it became both a provider and a symbol of Enclave power.
Notes and Trivia