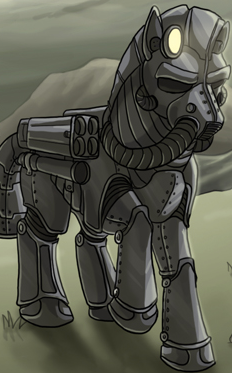 Power armor as the name suggests is armour that is powered to allow easier movement in heavy armor. There are a few variants of Power armour used by different factions.
History
Power Armor was first developed by the Ministry of Wartime Technology, under close supervision by Applejack herself. The Power armor was built by Applejack after the death of her older brother, Big Macintosh.
The Power Armor was built and used by specially trained soldiers, who became the Steel Rangers. Power Armor was a joint project between the Ministry of Technology and the Ministry of Arcane Science. The Armor was built with self medicating features, powerful heavy weapons and self repairing talismans.
The Zebra, in response to the Power Armor now being worn by the Equestrian troops, developed the Zebra Rifle, a weapon that would enchant bullets and ignite their targets. The rifle became particuarly feared and infamous by the Steel Rangers as it could pierce the armour and incinerate the Ranger inside.
Applejack also tried to stop research into weaponry that could pierce power armor, being done by private companies. Given how she had designed the armor to save lives and the Zebra empire would undoubtedly find a way to get their hooves on anti-power armor weaponry.
Steel Ranger power armor wasn't built with unicorns in mind. The helmets left no room for a slot that a unicorn could fit their horn into. The armour was built for use by Earth Ponies which makes sense, given that the armour was designed by Applejack, an Earth Pony.
Rarity worked with Rainbow Dash to create Power Armor specifically designed for Pegasi. The Armor is lighter than the Steel Ranger armour, worn by Steel Rangers, but the Pegasi Power Armor had magical energy weapons equipped into their battle-saddles.
Power Armor models
Steel Ranger Armor
Steel Ranger armor is used by Earth Ponies and Unicorn members of the Steel Rangers. A unicorn has to cut off their horn to wear a helmet. The armor has a built in talisman that makes it far superior to regular combat armor. For example, the Steel Ranger power armor comes with a built in regenerative talisman, that converts scrap metal, inserted into a port on the armor, into usable metal that repairs/regenerates the armor automatically.
The armor has a doctor enchantment built in using Stable-Tec equipment, the doctor enchantment being designed to provide medical aid to the pony inside the armor. Steel Ranger power armor also has some Stable-Tec components and interfaces. Littlepip used her knowledge of PipBucks to reboot SteelHooves' power armor using a Master Key.
The helmets have a built-in E.F.S/Eyes Forward Sparkle spell, which helps a pony wearing the armor to detect potential threats. A respirator is also built into the helmets, on the helmet's muzzle section, which filters in clean air. Steel Ranger armor typically has heavy ballistic weaponry fitted into the battle saddle, like grenade launchers, rocket launchers, and machine guns.
Steel Ranger armor also has powerful pistons built into the legs and joints, which provide more powerful physical attacks. An opponent that specializes in hoof to hoof combat wearing Steel Ranger power armor can be a particularly deadly opponent.
Steel Ranger power armor is notably vulnerable to EMP technology, especially EMP grenades. Applejack's Rangers paint their armour apple red to signify their defection from the Steel Rangers and recognition of leadership beneath SteelHooves, Applejack's former lover.
Enclave Power Armor
The Grand Pegasus Enclave has access to power armor. The Power armor is uniquely designed for Pegasus ponies. The Power armor is lighter than the armor worn by Steel Rangers. The armor aesthetically appears more insectoid, with goggles covering the eyes and specially designed protection for the wings, allowing a Pegasus to fly in the armor.
The armor has thick plates that cover vital organs and body parts, and beneath that, a layer of tough material that can resist lower calibre weaponry. The armor is equipped with a vicious blade on the end of the tail, giving it a scorpion-like appearance.
The Enclave armor does leave the mouth and face of a pegasus much more exposed than a Steel Rangers suit of power armor. It is also lighter which means a pegasus, in theory, can move much more quickly than a pony inside Steel Ranger power armor.
The mouth of a Pegasus in power armor is sometimes covered with a respiratory mask to protect against contaminants from the surface of Equestria, like the respiratory devices on the Wonderbolts Power Armor.
Griffin Power Armor
Power Armor was also built in Griffin models, designed to be worn by Griffin mercenaries during the war. It is likely the armor was produced by Equestria as other war-era nations like the Zebra Empire never developed similar technology. The armor offers greater protection from various forms of weaponry, but seems to be more restrictive. Butcher wore Griffin Power armor that lacked wing and leg/forelimb protection. This allowed for greater mobility in battle. It likely also helped her carry her heavy weapon, a dismounted anti-air cannon.
Portrayal in Side Stories
Ponies wearing power armor have also cropped up in side stories, examples include.
Power Armor of Power Armor in Fallout: Equestria - Project Horizons
Warning! The following information applies only to its associated side story, Fallout: Equestria - Project Horizons, and is thus considered non-canon in the Fallout: Equestria universe.
Project Horizons
Paladin's Steel Rain and Stronghoof both wear more ornate and decorative Steel Ranger power armor. The armor is fully functional and capable of repairing itself. Stronghoof's armor is notably larger given his larger frame and muscular physique. Steel Rain's had twin cannons attached to it's battle-saddle.
Operative Lighthooves and the Thunderhead Enclave have Enclave Power armor. The armor is entered by being opened on the back and presumably a pegasus lowers themself into the armor so they can wear it.
The Zodiac Clan member Aries wears a set of cherry red power armor, complete with a Flame thrower in the battle-saddle and a incendiary grenade launcher. The armor was shorted out by a combination of electricity and water. Aries survived, though trapped within the armor until she was rescued.
Project Steelpony
Project Steelpony, basically fused a pony with power armor. The most successful example of this was Deus. Dues was deployed during the war as a test subject, but their was much conflict between his cybernetics and his organic portions of his body. This caused Deus incredible pain, sated by a drug five times stronger than Med-X.
Power Armor of Power Armor in Fallout: Equestria - The Last Sentinel
Warning! The following information applies only to its associated side story, Fallout: Equestria - The Last Sentinel, and is thus considered non-canon in the Fallout: Equestria universe.
The Last Sentinel
The Lunar Guard armor was the first suit of armor to have intergrated spell matrices. These would later become the basic blueprints from which Steel Ranger and subsequent power armor would be based off of. The Lunar Guard armor has built-in enchantments, including the CAPS (Canterlot Augmented Pony Speech) spell. These are activated by touching the eye-like talisman on the breastplate or touching it whilst reciting an activation phrase.
Also featured in this story is Dead Boys power armor. It is fully-sealed power armor designed for specially equipped troopers in the PMC, known as "Heavies". They are deadly up close and from afar thanks to their mechanically augmented strength and their ability to wield Ripper-class autocannons, and they still retain their ability to fly- even if somewhat hindered by their weight. Speaking of their weight, Heavies are aptly named in that their armor is thus far the heaviest known power armor variant yet. As such, they can only be deployed at ground level due to their tendency to collapse age-weakened floors. Their gently-sloped armor shrugs off even armor-piercing rounds. The rear is much more vulnerable to AP rounds, however, and high-explosive weaponry and those with significant kinetic energy (such as a 12.7 NSVT round) can still devastate Heavies.
Power Armor of Power Armor in Fallout: Equestria - New Roam
Warning! The following information applies only to its associated side story, Fallout: Equestria - New Roam, and is thus considered non-canon in the Fallout: Equestria universe.
New Roam
In New Roam, a military faction knows as the Legion possess their own suites of zebra power armor, just as the great war legions did. This power armor model greatly resembles Roaman lorica segmentata in that the power armor consists of heavy segmented plates, underneath which is a crimson-glowing mesh of carbon-fiber that increases the user's strength and speed. The helmet is heavily armored and has a gasmask. The power armor also houses weapons built into the sides, such as LMG's.
Power Armor of Power Armor in Fallout: Equestria - Broken Steel
Warning! The following information applies only to its associated side story, Fallout: Equestria - Broken Steel, and is thus considered non-canon in the Fallout: Equestria universe.
Broken Steel
In Broken Steel, Appletart Longshot wears a suit of power armor. She acquired her original set of power armor, whilst serving with the Pondale Steel Rangers. Her second suit was made by Zyon out of several suits of Power Armor, found lying at the Four Stars Train Station. The second suit has an expandable mid-section, made of interlocking plates that allow Appletart to wear the Power Armor, even whilst pregnant.