"
Hold his leg out. I'm gonna shoot his hooves off!
"

– One raider to another
Chapter 2
Raiders are a sadistic variety of ponies that have succumbed to the harsh nature of the Wasteland. They are almost always violent and aggressive to civilized settlements, prone to unprovoked violence and wonton assault, and typically act hedonistically and with little sense of conscience. They populate nearly every part of the Equestrian Wasteland in some shape or form.
Many raiders are unaffiliated to particular factions, working mostly in small unorganized groups. However, many raiders will band together to form large gangs, controlling territory and attacking settlements en masse.
Gangs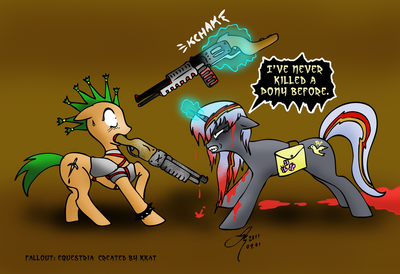 Gangs are large organized groups of raiders who operate as a team. Several such gangs populate the Wasteland.
Shattered Hoof Raiders
The Shattered Hoof Raiders are descended from the ponies left inside of the Shattered Hoof Re-education Facility during the last day of the war.
After many generations, these raiders have become far more organized than other raiders, having turned Shattered Hoof into a well-defended fortress and claiming control of the surrounding territory. They were led by Deadeyes, who in turn was answering to the whims of Mister Topaz.
Both were eventually killed by Littlepip and her party in a coup organized by the griffon, Gawdyna Grimfeathers of the Gawd's Talon Mercenaries. The remaining Shattered Hoof Raiders were reorganized under Gawdyna, who took control of Shattered Hoof with the intention of slowly morphing it into a civilized settlement, with the former Raiders its defenders. One of these former Raiders, Stiletto  was seen working as a guard in New Appleloosa several days after the coup.
Over a month later, after The Day of Sunshine and Rainbows, Shattered Hoof became the new home of the displaced residents of Stable 2, and further years under the administration of Velvet Remedy turned it into New Canterlot, the capital of the New Canterlot Republic.
Gangs in Side Stories
Warning! The following information applies only to its associated side story, and is thus considered non-canon in the Fallout: Equestria universe.
Project Horizons
Hoofington Raiders
The Hoofington area is home to a disease whose symptoms approximate raider behavior seen in other regions. The disease causes spongiform degeneration of the frontal lobe, not unlike mad-cow disease, resulting in a loss of reasoning capacity and a craving for protein. Over the course of several months, the victim becomes violent, unstable, and cannibalistic. Advanced cases lose any sense of self-preservation and become little more than ravenous animals, ultimately displaying cannibalistic properties and a lack of satisfaction, even immediately after feeding.
The disease is usually spread through cannibalistic consumption of an infected individual, but can also be transmitted by the ingestion of fresh, Enclave-poisoned produce. Earth ponies, unicorns and zebra can all be infected. Pegasi seem to be immune to the effects of the disease.
Pink Eyes
Wild Herd
A large warband of Raiders. The Herd was made up of tribes and Raiders grouped together under a single banner. They attacked the settlement of Ironworks, with the assistance of robots provided by the Solaris.Inc A.I. SolOS. They lost SolOS's support when it came to the conclusion that he wanted to be a better A.I. and promptly shut down the robots. The Rest of the Herd was killed or scattered by an attack from three Ghosts and an attack from the other side of their lines by Steel Rangers/Applejack Rangers and their allies. The herd also had a tank, which was destroyed.
Murky Number Seven
Leader: Brimstone Blitz
Other Leaders: Wildcard, Barb, Diamond, Big Brutus The Bloodletter clan was formed and led by the infamous raider warlord, Brimstone Blitz. The clan terrorized the wasteland, absorbing other raiders into their group and wiping out towns or enslaving ponies. The clan was lead by Brimstone who had four raiders that functioned as his lieutenants, leading and controlling the other raiders. The Bloodletters were finally defeated by Red Eye who set up an ambush that ended up capturing many raiders and slaves that the raiders had been ironically willing to sell. The remnants of the clan can be found within Fillydelphia, some members like Barb and Wildcard rising to prominent, leadership roles. This raider group was also noteworthy for having non-pony members like Breaks Many Foes, a Buffalo and Big Brutus, a Minotaur.
New Pegas
The Friends
Leader: Motor Mouth The Friends are a group of Raiders, originally wholly comprised of stable ponies from Stable 20. The Friends stable was full of every known war-era drug and chemistry labs so they could synthesize new drugs. The ponies of the stable have been using the drugs their entire life, making them notably unhinged and crazy. They eventually emerged into the wasteland a 150 years after the war due to severe boredom and have been terrorizing the Moohave and the New Pegas area for the last 50 years. 
Broken Steel
Motor Runner's Raiders
Infected Hoofington Raiders, under Motor Runners control are seen outside Hoofington. Appletart first spies one, giggling away madly and trying to eat herself. Appletart kills her using This Machine and later see's Motor Runner using the Raiders to infect Steel Rangers.
The infected Raiders swell their ranks with the Rangers who are controlled by Motor Runner. They are used as his primary troops whom he sends to raid and loot various Stable's and assist in building Krogoth. The are kept in line by being fed clones, created from technology, stolen from Stable 108.
Little Boxes
The Insurrectionists
The Insurrectionists is a large band of raiders led by the brilliant yet horrifically twisted Turmoil, and his marefriend, Bluebell. Although the gang has many ponies under their banner, and each one is well-equipped, their real strength lies in their discipline. They have been shown as capable of defeating traditionally stronger enemies like Steel Rangers.
Silence
Western Raiders
The Western Raiders are a group based in New Hampshore and are currently in feud with another hostile faction known as the Cobras. Their leader is never mentioned or revealed. While they're like any Raider groups would, they're currently under attack by the Cobra's leader Bleak Venom who has demanded payment from them after a failed negotiation deal.