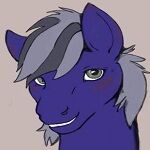 About Me
No longer affiliated with this.
Appearance (mock)
i am a midnight purple coated pony with a grey mane, my eyes are hazel. my typical clothing includes a black hoodie and my specialty weapon a combat machete i name famine, to which i apply the most deadly of poisons to deal with my foes.
Race - Pegasus
Level - 5 Exp 0/1500
S - 4
P - 5
E - 4
C - 6
I - 7
A - 7 +1
L - 7
Traits
Small Frame ( i am smige smaller than a mare)
Logan's Loophole ( i am immune to being addicted to any type of chem, hangover, side effects of most things and chems last twice as long. tradeoff: my level cannot exceed level 30 )
Perks
Currently Reading
Soon to Read
Contact Me
My favorite pages
Useful pages
Community content is available under
CC-BY-SA
unless otherwise noted.